Recent
Woodlake.net
report:  COMMUNITY REPRESENTATIVES GIVE "THUMBS-UP" FOR THE NEW SPARTA VOLUNTEER FIRE DEPARTMENT:
May 12, 2012:  The newly organized Sparta Volunteer Fire Department sponsored a Community Meeting, May 12, 2012, to discuss the proposed organization of the new Department.  The benefits of having a local volunteer fire department were also discussed.

Representatives of Woodlake and Denman's Loop subdivisions attended the meeting along with a number of other residents of Sparta Valley.  Fire Chief David Kirk and Board of Directors President Pat Beard addressed attendees about the forming of the new department and the advantages of having a fire department dedicated to Sparta Valley.  Currently, our fire emergency support is dispatched from Nolanville.  The new fire station will be less than a quarter mile away from Woodlake and Denman's subdivisions. 

Support for the new department was unanimous, among attendees of this meeting.  The plan in a nutshell:  The new department will continue to train firefighters, procure donated equipment, establish its bylaws and organize itself during the next several months.  With continued community support and with final approval of the Bell County Commissioners and the Bell County Fire Chief's Association, the department will be fully commissioned by October 1, 2012.  The department will then become our first responders and will respond to 911 calls for fire rescue emergencies in our neighborhoods.  Visit:  SpartaVFD.com for more information, as the department continues to develop.

On Saturday, 26 May 2012, Sparta Volunteer Fire Department (SVFD) Chief David Kirk headed for the San Antonio area in response to an unusual call from another fire chief.  Chief Domingo Hinojosa Jr., of the Linn-San Manuel Volunteer Fire Department had offered Chief Kirk some badly needed equipment for our newly formed SVFD.  Chief Kirk said the Department received a good amount of personal protective equipment from Chief Hinojosa, including boots, helmets, gloves, etc.   He said they expect to receive a fire truck in another week or so with some ladders and hoses and other essential firefighting equipment.

The firefighting equipment was offered after an unfortunate incident during which a fire recently destroyed the Linn-San Manuel fire station, forcing the fire department to regroup and rebuild.  Complete story of the Linn-San Manuel Fire Department's misfortune which led to Sparta Volunteer Fire Department's good fortune, can be found at the following 2 links: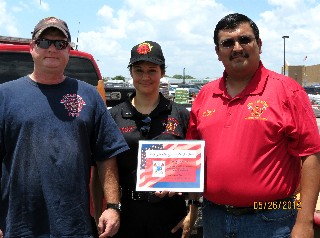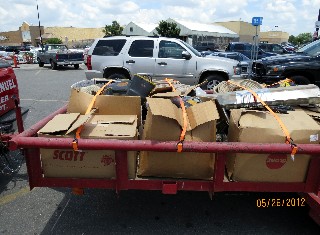 Chief Kirk presents Chief Hinojosa with a Certivicate of Appreciation from Sparta VFD.  Left to right:

--Chief Kirk. Sparta VFD

--Lieutenant Galvan, Linn-San Manuel VFD

--Chief Hinojosa, Linn-San Manuel VFD

Badly needed fire fighting equipment donated from the Linn-San Manuel Volunteer Fire Department to Sparta VFD.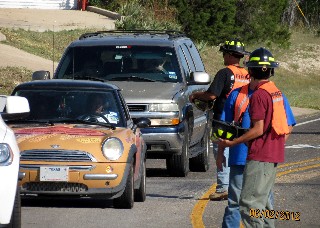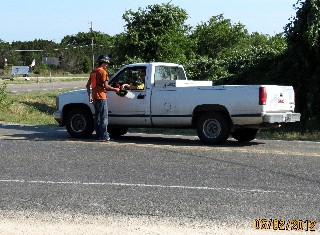 On June 2&3, 2012:  Firefighters of the SPARTA VOLUNTEER FIRE DEPARTMENT (SVFD) conducted their first "Fill the Helmet" fund raiser on selected intersections of the Sparta Valley area of emergency service.  SVFD raised more than $1600 over the weekend.  Some donators verified the Department's identity, before giving, by asking firefighters which department they belonged to.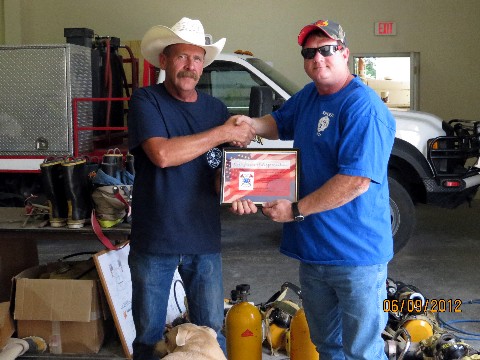 June 9, 2012:  Sparta VFD Chief David Kirk presents a Certificate of Appreciation to Chief Daniel Eaton of the Marathon, Texas Volunteer Fire Department for Chief Eaton's donation of several items of firefighting and rescue equipment including sets of Self Contained Breathing Apparatus (SCBA), a Cascade System for refilling the SCBA and a Hydraulic Extraction Device (Jaws of Life).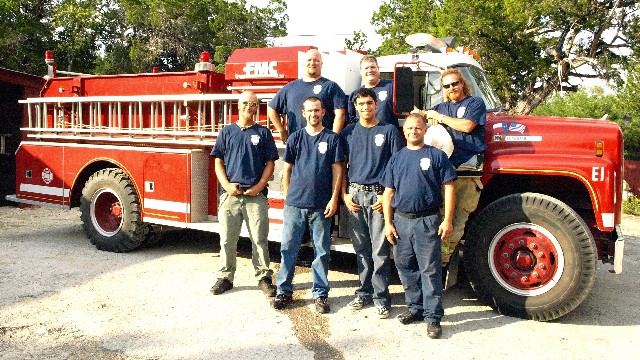 July 2012:  This 1979 International Pumper/Tanker was received during the first week of July 2012

Some less recent Sparta VFD news stories:

Sparta firefighters train with Belton firefighters.
Story, here.